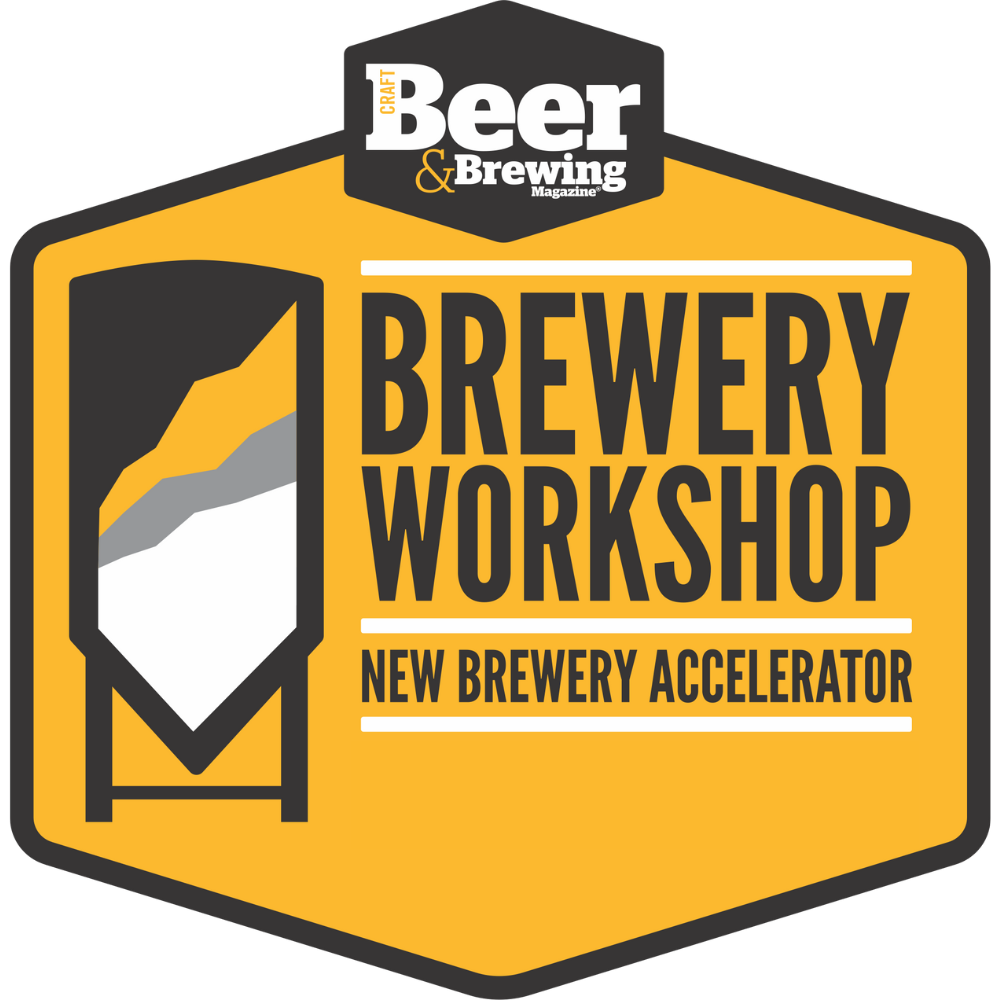 Accelerate Your Brewery in Austin, Texas
March 24-27, 2024
The Brewery Workshop brings together experienced brewery operators along with respected industry professionals to help breweries in planning and young breweries explore, define, and achieve their brewery goals. The event will be hosted at The Hilton Garden Inn Downtown Austin.
What is the Brewery Workshop?
Move beyond the guesswork
There are fewer than 50 spots total for this intimate opportunity for new and in-planning breweries to spend multiple days with the best minds in brewing. Move beyond the guesswork and spend four days in Austin, Texas, connecting with the experts who have built successful breweries. At this workshop, we'll navigate the ins and outs of establishing and growing a brewery through hands-on seminars and interactive technical brewery tours where you'll have the opportunity to engage directly with the pros and your peers. You'll gain the skills to improve the efficiency of your brewery, create invaluable connections with others in the industry, and accomplish in days what usually would take months.


The ticket price includes local transportation, lodging (ticket w/o lodging available), meals, seminars, brew day, technical brewery tours, one-on-one sessions with industry pros, a chance to win thousands in prizes at the pitch competition, and networking events.


The event will be hosted at the Hilton Garden Inn Downtown Austin.
This conference will pay for itself 10 times over
"This conference will pay for itself 10 times over with all the stuff we had overlooked in our planning." - Brian N. (2023 Fort Collins Attendee)
I had no idea how much more there was to learn
"I had been working on my planning for five years, which included talking to several brewery owners, and I had no idea how much more there was to learn. If you are seriously considering opening a brewery, attend this workshop sooner rather than later. You will save yourself a lot of time." - George H. (2022 Portland Attendee)
save you a lot of time and $$$s as you launch your craft
"This accelerator provides incredible access to some of the greatest minds in the brewing industry who are all very gracious with their time and willing to help those of us who are new to the industry. You'll learn a TON, which will save you a lot of time and $$$s as you launch your craft. Not to mention, it's a load of fun, with delicious craft beer threaded throughout. A great event for those looking to start a brewery, as well as those who have a new brewery and are looking for additional tips/tricks of the industry. Incredible." - David B. (2023 Fort Collins Attendee)
Brewery Experts — Announcing More Soon!
2024 Austin Presenters
A top-notch selection of experienced brewery operators along with respected industry professionals. More to be announced soon!
Stephanie M (2023 Fort Collins Attendee)
So good that I would do it again
"So good that I would do it again, and recommend it to anyone who is considering starting a brewery for the first time. An informative and packed tight schedule that covers the most important details to consider when opening a start-up brewery. Well experienced and knowledgeable presenters to share best practices and plenty of lessons learned."
Emily W (2018 San Diego Attendee)
can't recommend this course enough
"We attended the accelerator in San Diego in 2018, and it may have been the single most valuable thing we did in our research and development phase. From the expert panels to the brewery tours to the networking time with other breweries-in-planning, every single aspect of the program was informative to our business plan. The panelists and editors were all extremely generous with their time, and we were able to consult with them 1:1 about concerns and ideas relevant to our project."
Randy B. (2022 Portland Attendee)
The cost is minimal for how much this workshop offers
"Highly recommended for breweries in planning! Well laid out Workshop that answers a lot of questions in a short amount of time. I cannot think of any topics that were not covered. The brewery tours are a blast and give a lot of insight on how a brewery operates. The cost is minimal for how much this workshop offers! Don't miss out!!"
Brewery Workshop Itinerary
Don't miss out on this unique opportunity to learn from the best, expand your network, and transform your brewery into a booming business.
---
DAY 1 (March 24, 2024)
3:30PM: BUS DEPARTS FROM HOTEL TO JESTER KING BREWERY
4:00-5:00PM: TECHNICAL BREWERY TOUR
Location: Jester King Brewery (13187 Fitzhugh Rd. Austin, TX 78736)5:00PM-6:00PM: DINNER
Location: Jester King Brewery (13187 Fitzhugh Rd. Austin, TX 78736)5:15PM: PANEL: TAKING THE LEAP FROM BREWER TO COMMERCIAL OPERATOR
Description: So you've decided it's time to open or scale up your brewery. What now? In this panel discussion, prominent brewers with limited (or no) prior commercial experience share the ins and outs of launching a commercial brewery. From scaling recipes to operating a taproom and packaging, these brewers will help you avoid costly mistakes.6:30PM: LIGHTNING PITCHES
Description: Pitch your brewery idea (distribution, taproom, growth, brewery, etc.) in less than 5 minutes to the best minds in brewing to get feedback on your strategy. The winner of the lightning talks will receive thousands in industry prizes.9:00PM: BUS DEPARTS FOR HOTEL
---
DAY 2 (March 25, 2024)
8:15AM: THE BREWERY BUSINESS PLAN - ACCOUNTING, INVENTORY, AND PRICING YOUR BEER
Description: So you brew great beer? Do you know what it costs to produce, how to manage inventory, and plan for different margins from different distribution channels? Join our expert and learn how to master these issues so that you can run a profitable brewery.9:00AM: SEMINAR: FINANCING + ALLOCATING CAPITAL FOR GROWING YOUR BREWERY
Description: How much capital do you need to survive? What's the best corporate structure to protect you from liability while attracting investors? What are reasonable growth goals for a new brewery? How do you manage cash flow in a new business? What are some of the places to find loans and financing that aren't immediately apparent? This seminar tackles the nuts and bolts of financing and starting up a new brewery, from partnership structure to attracting investors to managing cash flow over the critical first six months of operation.10:30AM: SEMINAR: SELECTING YOUR LOCATION, DESIGNING YOUR BREWERY, AND NAVIGATING MUNICIPALITIES
Description: Proper architectural design is key to brewery flow both in the front and back of the house. In this session, we start by taking a look at material movement throughout the brewhouse for efficient material in, transfers, and beer out. Then we look at designing a taproom that allows for the most efficient use of the space.11:00AM: SEMINAR: SELECTING + MAINTAINING EQUIPMENT FOR STARTUP AND GROWTH
Description: Equipment is the single biggest capital cost of building or expanding your brewery. Learn from, then work one-on-one with experts to help you size, source, and place your equipment for day one and expansion.11:00AM - 11:40AM (PRE-BREW + HOT SIDE OF BREWING)
11:40AM - 12:20PM (COLD SIDE OF BREWING + PACKAGING)12:30PM: LUNCH
1:00PM-3:00PM: WORKING GROUP SESSIONS
Description: Work in small groups with industry experts to refine every aspect of your brewing operation.4:30PM: TECHNICAL BREWERY TOUR
5:30PM: DINNER
---
DAY 3 (March 26, 2024)
8:30AM: SEMINAR: STRATEGIZING FOR GROWTH & DISTRIBUTION
Description: While craft beer's heyday was marked by a "if you package it, they will buy it" mentality, today's competitive retail market makes selling beer profitably through the retail channel more and more difficult. In this seminar, we'll discuss common issues such as working with outside accounts, self-distribution, third party distributor contracts, format challenges, SKU management, and more.
Instructors: Michael Paul Messenie (Founder, Dutchess Ales)9:30AM: PANEL: MAXIMIZING TAPROOM REVENUE
Description: There are no better margins on your beer than those you get from selling it directly to consumers. This seminar focuses on how to create an environment that maximizes revenue through design, equipment/POS selection, operational strategies, retail, guest taps, and more.10:30AM: SEMINAR & HANDS ON: YEAST MANAGEMENT IN THE STARTUP BREWERY
Description: From cell counts to yeast sanitation to propagation and storage, this seminar will present cost-effective strategies for managing yeast to maintain the highest quality standards.11:30AM: SEMINAR: INTELLECTUAL PROPERTY AND TRADEMARKS
Description: Few startups have the money to defend lawsuits, and this seminar will help you proactively avoid costly legal issues that could delay your growth.12:00PM: LUNCH
1:00PM-3:00PM: WORKING GROUP SESSIONS
Description: Work in small groups with industry experts to refine every aspect of your brewing operation.3:30PM: TECHNICAL BREWERY TOURS5:30PM: DINNER
Location: Pinthouse Brewing (2201 E. Ben White Blvd. Austin, TX 787416:00PM: PANEL: THE PRESENT AND FUTURE OF IPA BREWING
Description: It's the most popular style in craft beer, representing roughly 40% of the craft beer market. But what do consumers want now, what will they want in the near-term future, and how can you design and brew beers to fit this evolving style? From West coast to hazy, session to triple, we'll dive into the various ways to make IPAs that today's drinkers love.
Location: Pinthouse Brewing (2201 E. Ben White Blvd. Austin, TX 78741
---
DAY 4 (March 27, 2024)
9:00AM: SEMINAR: RAW INGREDIENTS SELECTION, HANDLING, STORAGE, AND ALLOCATION
Description: It takes great ingredients to make great beer. This seminar, led by ingredient experts from well-known breweries and suppliers, will teach you how to identify great ingredients, handle them correctly in the brewhouse to maintain the highest quality, make smart substitutions, and more.10:00AM: SEMINAR: MARKETING YOUR BREWERY
Description: Experts explore the ins and outs of marketing channels with the best ROI. They'll answer questions regarding event attendance, working with PR companies, paid media, organic reach, and much more. Now that you have great beer and a successful brand strategy, this seminar will teach you how to build and foster your audience.11:00AM: SEMINAR & HANDS ON: QA/QC + SENSORY TRAINING
Description: Whether you're a 1 bbl nano or a 100k bbl regional powerhouse, being able to taste the variety of attributes in your beer is vital to making the consistent and delicious product your customer expects. Additionally, the job of training staff to identify these attributes typically falls to you. This seminar covers the basics of sensory analysis through hands-on tasting, and will give you a fundamental curriculum to train your own staff with. You may not be able to afford a full-time lab staff, but that doesn't mean you can't use techniques that the big guys use.12:00PM: LUNCH
1:00PM: LAST CHEERS!
Daniel K. (2018 San Diego Attendee)
attending this workshop should be a requirement
"If you are genuinely serious about opening a brewery, and would like an intimate and cogent breakdown of what it will take, attending this workshop should be a requirement! The level of insight, knowledge and camaraderie that is afforded through this workshop is nothing short of legendary, and you will walk away 100x more enriched than the price tag of the event. Do not hesitate, this is a must-attend event for anyone serious about beer!"
Luther H. (2018 San Diego Attendee)
I cannot imagine an easier and more affordable way
"I cannot imagine an easier and more affordable way to get direct access to some of the greatest minds in the craft beer industry. The workshop consists of key targeted sessions with expert panels, scheduled one-on-ones with these experts, and several trips to local breweries of all shapes and sizes to see how they operate their unique businesses (and drink their great beer!)."
Doug M. (2022 Asheville Attendee)
A must for every startup
"If you are starting a brewery or brew pub and have no idea what is involved or what the steps are, you will learn them at this conference. Knowledgeable industry pros and a great look into the breweries in the town that the conference is in."
Brewery Workshop Sponsors
---
In 2004, BSG recognized that the craft brewing and homebrewing community needed a dependable source for diverse ingredients from around the world. Since then, we have earned the trust of our customers by delivering the finest brewing ingredients at competitive values, all backed by outstanding customer service and depth of industry experience.

We continue to search the globe for new and interesting brewing ingredients that we can bring to our customers. Consequently, our product list continues to grow as we strive to better meet the needs of both professional brewers and homebrewers. Additionally, our knowledgeable and friendly sales and management staff comes from the professional brewing & homebrewing communities, so we can assist you in everything from recipe formulation to troubleshooting.

Whether it's exclusive specialty malts, in-demand hop varieties, or premium brewing aids we have you covered; great beers are made from select ingredients. BSG is committed to being your partner, and shares your passion for creating outstanding beers.
---
ABS Commercial is a full-service brewery and parts outfitter. From our corporate headquarters in Raleigh, North Carolina to our secondary sales office in Denver, Colorado, we are proud to offer brew houses, tanks and small parts to brewers across the country. Brew houses and fermenters from 3 BBL, ancillary components including steam boilers and chillers, stainless Tri-Clamp parts, yeast brinks and Sanke kegs. We have some of the quickest lead times in the industry along with a huge inventory of tanks between 3-90 BBL in stock!
---
Arryved is the most trusted point of sale system for your favorite food, drink, music, and hospitality spots. Our flexible, all-in-one system reduces service friction for staff and guests alike with smart technology designed by industry experts and enthusiasts. With transparent pricing, a full suite of customizable features, and award-winning customer support, Arryved helps grow your business and create contagious loyalty for your brand
---
Omega Yeast produces custom-propped liquid yeast pitches for brewers. They work their propagation schedule backwards from your brew day so that your yeast arrives at its absolute freshest, every time. Any barrel size and pitch rate--fast and easy. Lead times are short and consistent, and there are always knowledgeable brewers and brewing scientists available to talk to one-on-one. Though they're known especially for innovating new, unique strains - such as the Thiolized series - they also grow all the familiar classics you need, year-round.Their passion is to make brewing better through innovative thinking, research, and investigation, by making information, insight, and fresh yeast available to brewers leading the charge with the driving principle simply: Be Fresh. Be Curious. Be Helpful.
---
RMS Roller-Grinder takes the hassle and frustration out of milling and grain handling systems for the world's best breweries and distilleries. From bulk storage and conveyance to milling and custom specialty equipment, RMS Brewing Solutions has you covered with turn-key system design, fabrication, and installation. Focus on your craft and leave the rest to the grain handling experts at RMS. Start your process off right with premium milling equipment. Malt is often the most overlooked and most expensive part of the brewing process. Don't trust these critical steps to just anyone. The best trust RMS because their reputation is on the line. RMS equipment is designed and produced right here in the USA. And with systems deployed in all 50 states, we're local everywhere.
---
We are a Colorado based brewery equipment manufacturer specializing in professional quality small-batch pilot and nano brewing systems. As a family owned and operated business established in 2011, we pride ourselves in providing unrivaled quality and customer service. We manufacture and support small batch brewing systems for brewers and breweries worldwide. Ruby Street Brewing is unique in that all equipment is built to order with flexible designs, customizable options, competitive pricing and short lead times.
---
We started American Canning for one reason – to provide craft consumers greater access to the beverages they love most. Our equipment, supplies and mobile canning services break down barriers to packaging with low minimum quantities, affordable pricing, quick lead times and easy online ordering.We envision a marketplace where every beverage brand, no matter how big or small, can be represented in cans. Whether you're producing craft beer, wine, mead, cider, coffee, tea, kombucha, soda, water, juice, or any other delectable drink, we'd be honored to work with you."
---
We are an Oregon based glycol chiller manufacturer - a trusted partner for over 30 years, serving more than 3,000 breweries across the country. In that time, we've perfected the most reliable chillers and best-in-class service team across the brewing industry. We know brewing never stops, and neither do we. Our commitment to exceptional customer service is evident in the way our customer service teams respond to every inquiry and issue with urgency and care. G&D Chillers' team of experienced technicians is available 24/7 to provide technical support and service, ensuring your operation runs smoothly at all times. From unexpected heat waves to inconveniently timed technical hiccups, we've got you covered. Big enough to produce. Small enough to care.

• 24/7 Support
• No Proprietary Parts
• Install Support Included with Every Chiller
• Piping Design and Consultation Free of Charge

We've recently expanded manufacturing and R&D to a larger 80,000 square foot facility. The new facility has streamlined production for shorter lead times, offers a larger in-stock parts house and an expanded customer support team. G&D has been Committed to craft brewers for over 30 years.
---
TCW proudly serves brewers by selling and maintaining brewery equipment including pumps, stainless steel carts, hoses, tanks, kegs, bottling equipment, filters, and much more. We are a family business operating out of Sonoma County, CA. Our brand promise is to sell high quality, fairly priced, and inventive brewery equipment in a straightforward and simplified way. Our mission is to work with brewers to improve the innovation and success of the industry for all. We firmly believe that a rising tide lifts all boats. In working with us, you will find that we care about the success of your craft and your operations. You can reach us via phone, text message, email, or through our website which provides straightforward quick ordering. 707-963-9681, hello@tcwequipment.com
Jeremy (2022 Portland Attendee)
This was so damn good!
"This was so damn good! We are aiming for the next level in our growth as brewery operators & this was an incredible step for us. It was everything we expected and more. If you want great industry advice & information, this is the place to be."
Shannon D. (2022 Portland Attendee)
ABSOLUTE MUST FOR ANYONE CONSIDERING A STARTUP OR EXPANSION
"All presenters knocked it out of the park. The format was perfect. The Breakout sessions allowed deep dives into specific topics. Financing, Marketing, Ingredients, Brewery Tours, Layouts, Logistics, QC, Material Handling, Equipment, HR, Operations...This workshop had it all. You will save the cost of this workshop by hundreds of times. This workshop is an absolute must for anyone considering opening a brewery."
Josh L. (2022 Asheville Attendee)
the workshop is worth every penny
"This is an absolute must attend workshop if you are thinking about opening your own brewery. The program was loaded with information and the presenters were ready to answer your questions. Whether you are planning a nano brewery or a large production facility the workshop is worth every penny. The content was spot on and the technical tours were great too. The small group breakout sessions give you the opportunity to get one on one time with presenters."
Brewery Workshop FAQ
---
How many tickets are available to purchase?
The workshop will have no more than 50 attendees total.


When is the last day I'm able to purchase tickets?
The last day you can purchase a ticket is when we sell out.


Will transportation be provided?
Yes, all transportation will be provided from the time the event starts until the final brewery tour. We will not have an airport shuttle, but will provide transportation back to the hotel after the last tour.


How many drinks will I get during the meals?
We will provide at least 1 drink coupon per technical tour and dinner. Anything above that can be purchased on-site.


Are discounts offered for breakfast or purchased drinks?
There are no discounts available to our group for breakfast or for individual beers purchased on-site.


Where are seminars being held?
Unless otherwise indicated in the itinerary, all seminars and hands-on workshops will be held at The Hilton Garden Inn Downtown Austin. For any events offsite, we will provide transportation.


If two of us want to share one room, what tickets should we buy?
You should purchase one ticket with accommodations and one ticket without. All rooms have either 1 king bed or a double queen. Please let us know as soon as possible if you need a double queen room because there is limited availability.
Accelerate Your Brewery in Austin, Texas
The Brewery Workshop brings together experienced brewery operators along with respected industry professionals to help breweries in planning and young breweries explore, define, and achieve their brewery goals.
---
Join the Brewery Workshop Newsletter
Contact Us
Questions about the event? Interested in sponsorship opportunities? Contact us and we will get back to you within 24 hours.